A touch of ALOHA to your Dream Hawaii Destination Wedding
Dreaming of an idyllic wedding in the tropical paradise of Hawaii? Look no further! At each venue, we offer an unforgettable experience that combines the spirit of aloha with breathtaking surroundings. From the moment you set foot in our venue, you'll be immersed in the natural beauty that Hawaii has to offer.  The wedding venue is already beautiful, but we can add an extra touch of ALOHA to infuse the Hawaii spirit into the atmosphere.
Ideas for bringing in an extra Aloha spirit to your wedding
"Welcome with Leis" to show your ALOHA to your guests. As your loved ones arrive at your venue, welcome them with Hawaii's fresh flower leis. These beautiful floral necklaces symbolize love, respect, honor, peace, and the warm aloha spirit. Traditionally in Hawaii, it is common to gift or wear leis at events such as weddings, graduations, school dances, and more.  Welcome your guests with open arms and the delightful gesture of a lei, ensuring an unforgettable experience that captures the essence of Hawaii's enchanting culture.
Delight Your Guests with Mini Spam Musubi: Hawaii's Iconic Local Snack!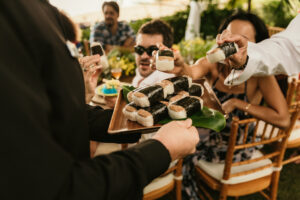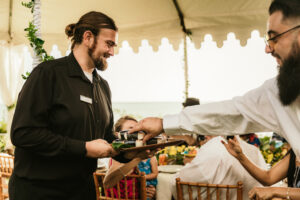 An iconic local snack in Hawaii,  a must-try dish that captures the essence of Hawaiian flavors.  The combination of savory grilled spam, rice, and nori seaweed will leave your guests wanting more.  You can not leave Hawaii without trying spam musubi!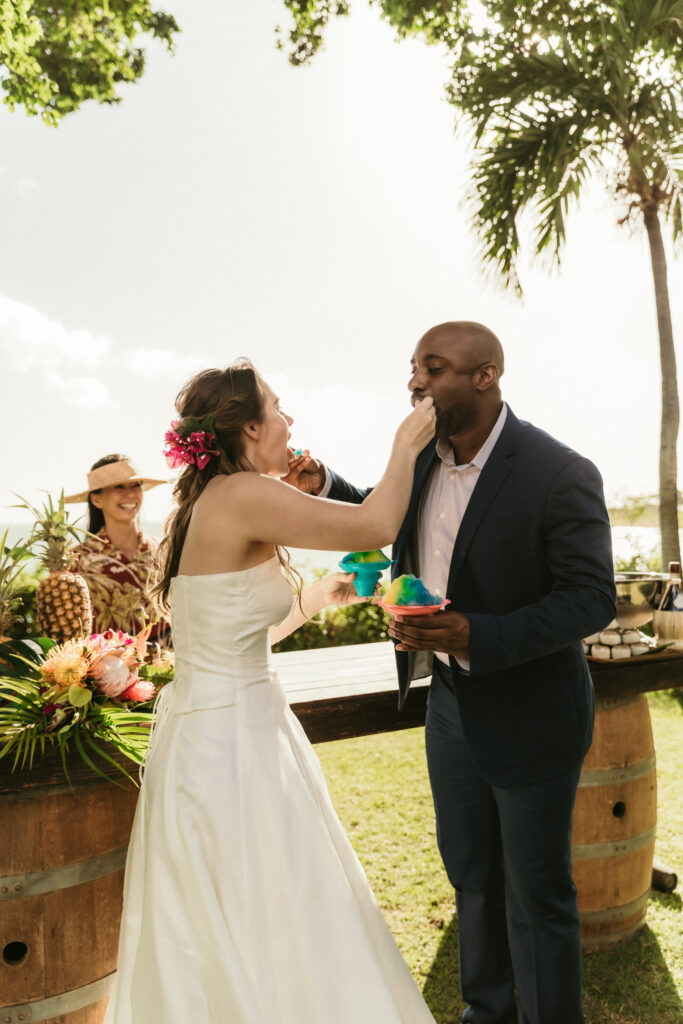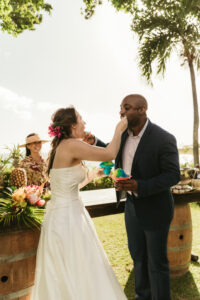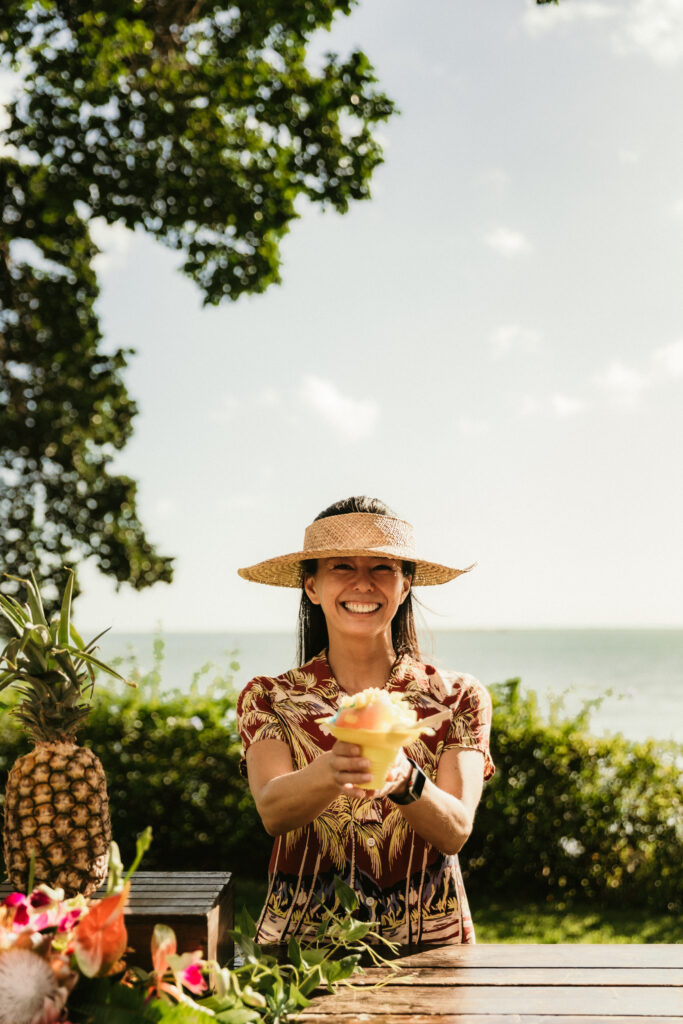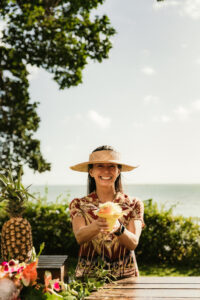 Indulge in Refreshing Delights at the Shave Ice Stand: Beat the Heat, Hawaiian Style! Another authentic local delicacy that showcases the unique flavors of the islands.  This beloved Hawaiian tradition offers a delightful array of flavors and combinations, but one stands out as a crowd-pleaser: the "Rainbow" flavor, a blend of strawberry, vanilla, and banana. A favorite shave ice flavor to keiki (kids) and adults! Personal recommendation is the "Guava & Lilikoi syrup with Li Hing Mui (Plum Powder)"is a delightful choice! It offers a perfect balance of sweetness and a subtle hint of sour on the palate.  It's a delightful treat under the Hawaiian sun. There's no better way to cool down and satisfy your taste buds than enjoying Shave Ice beneath the radiant Hawaiian sunshine.
Visit our  Hanalani Garden.  At this stunning venue in Hawaii, we are committed to crafting an extraordinary experience that embraces the essence of aloha.  We will ensure that every moment of your wedding in Hawaii is filled with joy, love, and cherished memories.  Let us bring your dream Hawaii wedding to life!
Contact us today to start planning your unforgettable celebration☞  Inquiry